Community Prayer Wall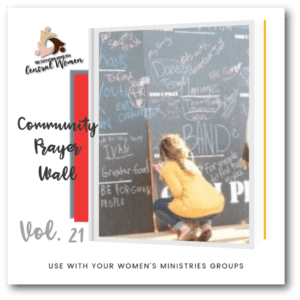 In these times of uncertainty, one of the most powerful tools at our disposal is prayer. Coming together as a community to pray is a way to unite as a body of believers, be a witness, and call others to Christ.
This "Community Prayer Wall" idea was shared with us from the Indiana Division. The Salvation Army of Warsaw has collaborated with a local church and outreach program to utilize the church's prayer wall to engage in community during this time. Located next to a local grocery store, the prayer wall invites people to write prayer requests in chalk on the wall, as well as leave donations for The Salvation Army Warsaw's food pantry. What an inspirational way to to come together in community!
Using this idea with your
Women's Ministries Groups
This idea could be scaled down to use with your Women's Ministries groups. The prayer wall could be constructed in various ways from elaborate to simple. You can use free materials, ask for donations from your groups, or purchase items relatively inexpensively. Here are a few ideas:
Use sidewalk chalk directly on the walls of your building. Easily washed away with a hose (or wait for a rain shower!).

Spray paint large pieces of plywood with chalkboard paint. Use sidewalk chalk to write on the wall.
If you have a chain-link fence, use index cards, Sharpie markers for writing, and small clothes pins (purchase at Dollar Tree, Michael's, or on Amazon) to attach the requests to the fence. You could also attach chicken wire to pallets for this as well.

Purchase inexpensive vinyl wallpaper and secure it to some plywood, pallets, or other large surface area. Use Sharpie markers for writing.
Simply use poster board and Sharpie markers.

Place your "wall" in an area where people can see it and are able to write on it. Make it large enough for social distancing. If possible, try to keep it sheltered from the elements. You could use a tarp or move it inside during inclement weather.
First, invite your group members to come and write their prayer requests on the wall and to pray.  Next, open it up to other groups in the corps, including social services. Third, invite the public to write on your wall.
Lastly, take pictures of the sections of your wall, post them on social media, and invite your Women's Ministries groups to pray for the requests specifically. You can also send out sections of requests to those who are not on social media but who would want to participate.
Thanks, Indiana Division for this awesome idea!
God bless you!