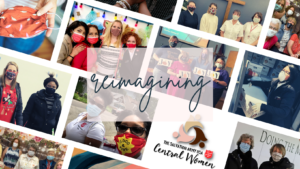 Click HERE for Reimagining WM for the Short Term Volumes 1-30
What is REIMAGINING?
The Salvation Army International Women's Ministries has issued a new challenge for Women's Ministries:
"A CALL for The Salvation Army's worldwide ministry to women
to be fit for purpose for the 21st century."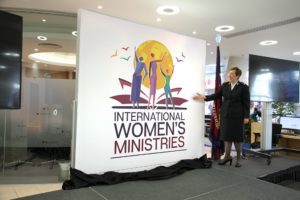 On February 12, 2020 Commissioner Rosalie Peddle (World President of Women's Ministries) launched this exciting new plan for international Women's Ministries for 2020 and beyond, including a new vision statement, new logo, and new Bible studies.
The Salvation Army USA Central Territory is on board! We are excited about this new opportunity!
---
WOMEN'S MINISTRIES THE VISION:
Envisioning women to be
TRANSFORMED and EMPOWERED by the gospel to lead a Christlike life
ENRICHED mutually through local and global connections and support
EQUIPPED to fulfill their potential through lifelong learning and development
ENGAGED in social justice and action to positively impact the world
---
Transformed and empowered by the gospel to lead a Christlike life
As a 'Salvation' Army with a call to holy living, this first point sets the foundation for Women's Ministries. All other points are built upon this premise.
Our desire is to:
Take every opportunity to introduce women to Christ.
Encourage, in a variety of ways, a connection to a Christian faith community, resulting in mentoring, discipleship and worship opportunities.
Encourage growth, both in knowledge and application of the Word, in personal and community settings.
Allow time for spiritual reflection and culturally suitable opportunities for women to shape their personal living and to share their personal experience of transformation.
Bible study groups, prayer meetings, corporate worship, cell groups, outreach events, intentional conversations, mentoring, and discipleship within relationships.
Enriched mutually through local and global connections and support
The Christian life is not one of isolation, but of mutual support and community.  Women and girls have an instinctive desire to connect on a deep level with one other. As such, this second point addresses nurturing and service.
Our desire is to:
Create opportunities for women to connect to God, to one another, their community, and the world; to share and learn from one another; and to experience the diversity and richness of the body of believers.
Celebrate what God is accomplishing in and through the fellowship of believers.
Help shoulder the burdens of other women experiencing difficulty or loss.
Identify areas of need and promote efforts to support and equip other women.
One-on-one encounters, group gatherings, community engagements, mission trips, and fundraising efforts.
Equipped to fulfill their potential through lifelong learning and development
Believing that all life is God-breathed and serves a purpose, this third point addresses our fit and function within the body of Christ and for such a time as this.
Our desire is to:
Promote, encourage and where possible, resource education.
Provide opportunities for self-discovery and development of gifts and talents, as well as self-confidence, to empower women and raise their standard of living.
Challenge destructive cultural norms that prohibit people from excelling as God would desire.
Sound, biblical teaching on equality of men and women, basic education, and life and trade skills classes.
Engaged in social justice and action to positively impact the world
As disciples, we are called to go into all the world and express the good news of Jesus Christ, both in word and in deed. This final point is the outward expression of the inward work of the previous three points.
Our desire is to:
Be informed on social justice matters, including but not limited to human trafficking and modern slavery, climate change, domestic violence, child marriage, child abuse, female genital mutilation, migration and refugees.
Speak out on behalf of those who have no voice with boldness, wisdom, and grace; making every effort to learn from each other and to be mutually transformed.
Encourage kind actions and generosity by living a life that demonstrates respect for God, other people, and the environment.
Recognize the value of each individual, regardless of race, religion, gender, sexual orientation, socio-economic status, age or language.
Advocacy, ethical living, acts of kindness, local community ministries, participation in national and local conversations and support of non-discriminatory legislation.
THE NEW LOGO: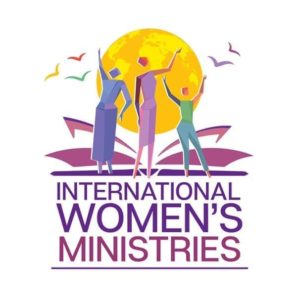 The aim of this re-imagined logo is to bring light, life, and a freedom of spirit to all women around the world. Where thoughts, actions, and morals are, as they have always been, concentrated on the Bible and its universal message, this is still reflected in the new design.
The 5 zones are identified by the 5 birds emerging from the sun and the world which are represented as one. These elements are designed to inspire women from any culture or background that at the dawning of each day they are encouraged to unite as one voice and one body, where God's love is always at the very centre of their being.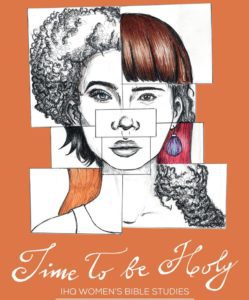 These Bible studies are not intended to be exclusive to women's ministries groups. They have been designed to be utilised in groups of all ages, cultures, nationalities, languages and genders. We are praying that God will use this resource far above anything we could ever dream or imagine.
Pa
ge Break
READ MORE FROM THE INTERNATIONAL WEBSITE HERE
You can still view the live-stream here or follow the links below:
Website: www.salvationarmy.org
Facebook: The Salvation Army International (@SalvationArmyIHQ)
Twitter: SalvArmyIHQ
Youtube: www.youtube.com/user/SAIHQ
Some highlighted quotes from Commissioner Peddle during the live-stream:
"What is God calling you to re-imagine?"
"Envision women who are transformed and empowered by the gospel…"
"Women have an instinct to connect with one another."
"Social justice awareness and action"
"Women's Ministry is a strong force to be reckoned with!"
"Unite as one voice…where God's Love is lived out in our community…"
"God is calling women of courage…moved by God's love…to do something and do it now!"
"The experience of greater things comes only by greater faith."