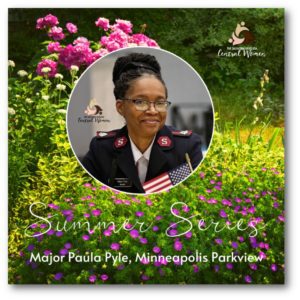 Summer Series Chapter Two
Meet Major Paula Pyle! Major Paula is currently serving with her husband, Major Robert Pyle as Corps Officers of the Minneapolis Parkview Corps. She is directly involved with both Senior and Youth programs but especially enjoys her ministry to women including Embrace, Women's Focus Groups for Correctional Services, World Day of Prayer, Multicultural Fellowship, and much more.
Major Paula enjoys music, drama, sign language, photography, crafting, and creative writing, using these talents for God's glory. She also plays the timbrel and has been featured on several Salvation Army international timbrel videos.
Major Paula is a prayer warrior, interceding on behalf of others daily. She loves the Lord and serves Him faithfully as a partner in mission with The Salvation Army.
Here is Paula's story:
"I am a born-again Christian for 38 years, married to Major Robert Pyle, and the mother of one daughter, Princess Alice. I grew up in the Weslyan Holiness Church previously in Barbados, and then at the age of 8 became a Junior Soldier of The Salvation Army Four Roads Corps, Barbados in the Caribbean Territory. In 1999 I was commissioned in the Faithful Intercessors Session in Kingston, Jamaica and have served as a Minister of Religion in The Salvation Army for 21 years. My husband met me at the Training College and was Commissioned in the Forward 2000 session.
Having been involved in Women's Ministries at my home Corps, and since my mother was the Corps Home League Secretary, I have loved participating in Women's Ministries programs, World Day of Prayer, rallies, camps, retreats, committees, conferences and writing articles. I love to interact with women, praying for and motivating them to see themselves as Jesus sees them – with value, appreciation and love. I have enjoyed serving as Divisional League of Mercy Secretary and Divisional Secretary for Women's Ministries in the Barbados and St. Lucia Divisions. My hope for the future is to continue to grow my Women's Ministries here in Minneapolis."