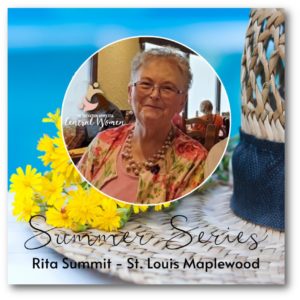 SUMMER SERIES CHAPTER TEN – Meet Rita Summit! Rita is from the St. Louis Maplewood Corps in the Mighty Midland Division! She has been leading Salvation Army programs for more than 30 years! She has served as anything from Girl Guard leader to Women's Ministries member, Chaplain, and Secretary. Rita is full of life and love for Jesus and for His precious people. She is a friend to all and shows God's love to everyone she comes in contact with. Here is Rita's story:
"My love of Women's Ministry started when I was around 11 years old. My grandmother was a faithful soldier, and the Home League secretary. She would bring me and my sisters to help the women. We helped with various projects including rolling material into balls that they cut into strips and sewed together to make rag rugs.
As an adult, along with marriage, children, and working, our Corps was important to our family. With my love for Women's Ministry, I made time to attend and was commissioned as Chaplain.
Our family moved to St. Louis, MO and I started working at DHQ. A co-worker invited me to her Corps evening Women's Ministry group. I was excited to join! She was the Secretary and a great one – the programs were super! Her leadership taught me how a well-planned program should be. Soon after, I was commissioned as Chaplain during this time.
For many years I also served as the Girl Guard leader at the Maplewood Corps. Many of the girls in our troops have gone on to be members of Women's Ministries.
Since retirement, I have enjoyed attending, loving the fellowship of the other wonderful ladies in the Women's Ministries programs. Currently, I am serving as the acting Secretary and I truly love these ladies."