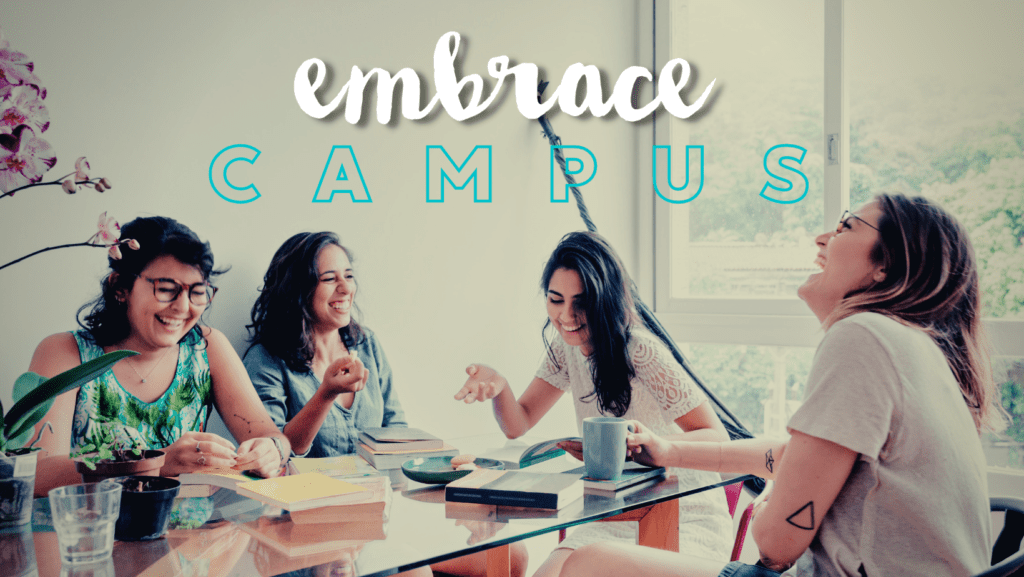 We are so excited to be bringing back Embrace Campus!
Here is a note from the creator of Embrace Campus, Lt. Sarah Micula:
"One of the first adult moves you'll make is the decision to leave home.  It's exciting, it's scary, it's unknown, it's also normal. The experience is yours so it will feel unique to you, but many go through it. This decision is our first independent movement towards discovering who we are and who we'll become."
"If I could do college over again, I'd find a Christian community, like an Embrace: Campus group, to walk with me through this time of life. Because being in a Christian community wasn't a part of my college experience it took me years to catch my footing, my vision, and figure out who I am – more importantly, who I am in Christ. Having a small group like Embrace Campus would have matured and grown me in rich and meaningful ways in my faith."
-Sarah Micula
Embrace Campus (EC) is designed specifically for the college or university student. It provides opportunity to connect a variety of young women from your college campus in a new way.
There are two parts to EC:
Bible Study sessions – one session per week (eight sessions per semester).
Embrace sessions (4 discussion questions) which are once a month sessions—to occur on different days than Bible Study sessions.
This program will create space for women to intentionally experience life together outside of the church – where community becomes an extension of the church.
EMBRACE CAMPUS LEADERSHIP
If you are interested in leading an Embrace Campus group, complete the form below and I will send you the information you need.