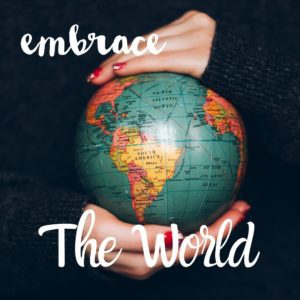 ENGLISH QUESTIONS – October 2020
SPANISH QUESTIONS – Octubre 2020
October 2020
How, then, can they call on the one they have not believed in?
And how can they believe in the one of whom they have not heard?
And how can they hear without someone preaching to them?
And how can anyone preach unless they are sent?
As it is written: "How beautiful are the feet of those who bring good news!"
Romans 10:14-15
This month we turn our focus to embrace the world. We will discuss God's creation, His people, and how we can be a part of His local and global mission.
We are all called to bring the light of Jesus to this broken world – near and far. Our specific ministries will look differently for each of us. However, at the very least we should be asking the question, "How am I allowing God to use me to reach people with His message?"
We want to especially thank Kristin Caddy, Viki Payton, and Stephanie Marinelli from our Central Territorial World Missions Department who helped us write the questions for this month. Learn more about The Salvation Army World Missions here: 
https://centralmissions.org/
Also, we want to remind you to give financially to World Services through your Salvation Army Women's Ministries or by contacting your local Salvation Army. Your donations will help The Salvation Army directly meet the needs of the world's most vulnerable people.
God bless you as you meet together!
INTERESTED IN JOINING EMBRACE?
CLICK THE PICTURE BELOW!

LEARN MORE ABOUT THE SALVATION ARMY WOMEN'S MINISTRIES
HERE
.
PAG
E BREAK