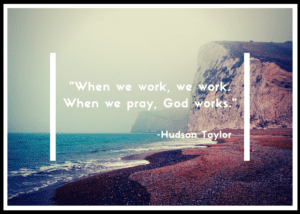 Create a prayer chain!
Reach out to your Women's Ministries groups to see who wants to participate.
Communicate the value of the commitment to being a prayer warrior in the chain. Participation requires dependability and willingness.
Receive prayer requests.
Create an accessible communication platform (phone, private social media, email, etc.) for your group or church members to submit a prayer request safely.
Communicate your prayer requests.
Again, this can be done via phone, email or social media. Build a list that allows you to send prayer requests to everyone via their preferred form of communication.
Respect Privacy
Ask if it's OK to share the request with the group. If it is a private request, share the name only.
Share the request right away.
Some requests are urgent by the nature of the situation. However, even the "less emergent" requests should be shared in a timely matter. This fosters trust in your prayer chain.
Feel free to share the devotional with all of your Women's Ministries groups, but especially with your prayer chain for inspiration.
Stay connected through prayer!
Today, we pray.
Five Things Change When We Pray
1. Focus – "And the things of earth will grow strangely dim…" When we turn our focus on Jesus, something changes. The world around us seems to disappear. Our focus changes. When Peter walked on water, he had to be laser-focused on Jesus. When he looked away, his feet gave way and he sank into the waves (Matthew 14:22-33). When his eyes were on Jesus, the sea didn't disappear. His circumstances remained the same. But Jesus was there with Peter in the sea.

It is not that our problems go away. But when we fix our eyes on Jesus, we will see that God is there with us – still holding us in the midst of our trials. Prayer changes our focus.
2. Posture – Have you ever prayed for something for a long time and the answers took what seemed like forever? Maybe you are like me, still praying for answers. Recently, I was feeling defeated, having prayed for a victory in a loved-one's life for eight, long years. So I cried out to God in anger. I was so frustrated because I was claiming God to be working in this situation but haven't seen any answers. Why weren't MY prayers working??!! God quickly reminded me that I needed to change my posture. THIS WAS NOT ABOUT ME. And of course, because God loves me, He reminded me that He is doing something I can't understand. His ways are higher than I can comprehend. So my heart-posture changed and I prayed Psalm 61: "Lead me to the Rock that is higher than I." And I will continue to adjust my posture and pray. And I will wait on Him.
3. Atmosphere – When we pray, we enter into an attitude of worship, and our heart-atmosphere immediately changes. When we recognize WHO we are talking to – GOD – the creator of the universe – the Ruler of everything – His Holy Spirit fills the space around us and we are ushered into His throne room. I imagine it as being in the Lord's presence in the cloud from the Old Testament: "By day the Lord went ahead of them in a pillar of cloud to guide them on their way (Exodus 13:21). We can feel God's presence within us, communing with us, guiding us, loving us.
Psalm 46:10 reminds us to  "Be still, and know that I am God;" When we are still in His presence in an attitude of prayer – even just for five minutes – our atmosphere changes.
4. Position – When we pray, we glorify God. Recognizing that we need a Savior changes our position. By nature, we are selfish and desire to be self-ruling. We want to be in charge of our lives. God even gives us free will to make our own decisions. But when we pray, we submit our will and control over to the ONE who is in control. Only God is sovereign. When we pray, our decision-making is saturated in His Holy Spirit's guidance. The very words we speak are from His breath speaking into us. As a result, God receives the glory and our heart-position immediately changes.
5. YOU – When Jesus went up the mountain to pray, his entire disposition changed. Luke 9:29 tells us "the appearance of His face was altered…" When we pray, we are changed. Prayer allows us to become like Jesus. He meets us right where we are to do so.
Following the death and resurrection of Jesus, the disciples were walking on the road to Emmaus. Jesus met them, walked with them, talked with them, but they did not recognize Him. It wasn't until they were eating with Him that their eyes were opened and they realized it was Jesus. However, something had already happened earlier as they walked and talked with Jesus – a physical change. "Were not our hearts burning within us while he talked with us on the road and opened the Scriptures to us?" (Luke 24:31) When we pray, Jesus meets us right where we are. We may not see Him with our eyes, but we can feel the change within our in our hearts. We are changed when we pray.
So today, we pray – not because we have to – but because we want to be changed. Allow God to change you as you pray today.
"But what if we could be
a people on our knees
As one before the King
'Cause we believe
All the world starts changing
When the church starts praying
Strongholds start to break
Oh, when we pray
Prison walls start shaking
At the sound of praising
Nothing stays the same
Oh, when we pray"