So many great ideas are coming our way!
Most of us are now on week #2 of "Shelter-in-Place". Is anyone looking for other things to keep busy? Maybe you've decided to clean out that closet you've been meaning to tackle for months, or finally getting all of the laundry done and put away! Maybe now you're looking for something new to inspire you!
Here's an idea that you can do personally and also that your Women's Ministries groups can do together from home. Along with posting a photo to a Facebook page or sent in an email, create a practical way to check in with each other, keeping one another accountable while doing the 30 day devotional. This could be an email, a phone call, or hand-written note.
It would take some work, but think of a creative way to get the 30 Day Devotional to your women who do not use social media or computers. This could be simply delegating four women in your group to each compile one of the weeks into a document that could be sent out through the mail.
Is someone crafty in your group? Ask that person to collect all of the photos – or have two people work together – and create a "Social Distancing" Scrapbook that your Women's Ministries group can look through once this quarantine is over and we can meet together again! Be sure to take some selfie-photos, too!
It's always good to declutter and get into the Word of God!
THANKS ELGIN CORPS FOR PASSING ALONG THIS AWESOME IDEA!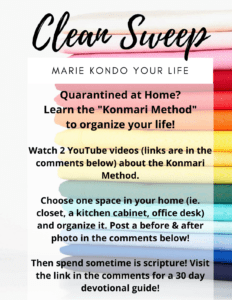 Links to these Youtube videos here: