"This Is Our story"
(Idea adapted from Major Valerie McDowell, Eastern Michigan Division)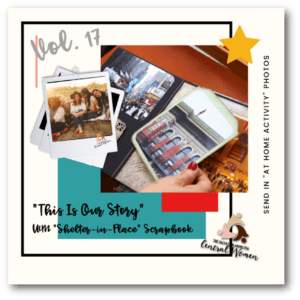 During this historical time of Covid-19 social distancing, we are unable to meet face-to-face. For some this can be a fearful and dark time. Memories hold places of joy and sadness. How can we turn this unfortunate time into something good?
Here is a way to connect with your Women's Ministries groups, spread some happiness, and save some historical memories!
Create a Women's Ministries Scrapbook
There are several themes you could focus on:
*"Stay At Home" activities – members document in photos their daily/weekly activities in photos and journal their testimony of how God has spoken to them during this time.
*Women's Ministries Group "Distance" Activities – document your WM group activities that you've engaged in from a distance (Zoom meetings; house visits; mask making; social services; EDS; etc.)
*A Favorite Bible Story or Verse – members share a photo of themselves and journal about their favorite Bible story or verse.
*"This is My Story" – members share their testimony in photos and journal. This could be photos of themselves, places, other people, etc.
*"This is My Story II" – members share a photo from their past and one from today, and journal about their personal history or share their testimony. This could also be a "getting to know you" activity as well or use it as "Women's Ministries Directory" to be distributed to all members.
*Your idea? Anything goes!
Enlist members who enjoy scrapbooking to help gather the photos and info and put pages of the book together. Supplies can be purchased for very little at the Dollar Store. Perhaps you're an avid scrapbooker and would like to donate some of your supplies.
If you have more of a digital proclivity, you can use free online scrapbook makers like Smilebox or Canva.
For those who do not use cellphones cameras or computers, think of ways you could have them participate – call them and record their story; have them leave their photo and a written testimony in an envelope on their doorstep for you to pick up; etc.
When the book is finished you could do one of two things to share it:
Wait until you are able to meet again. Your first meeting could be "This is Our Story" – a time of sharing your stories together as a group.
Create a slide show (Powerpoint; Smilebox.com; Kizoa.com) of the book's pages and share it through Facebook, Instagram, or email – OR if you're using digital scrapbooking, there are sharing options through those sites.
You also could visit those who are unable to get out, or who don't use technology, allow them to look through the book and return later to pick it up.
May God continue to bless you
during this time apart!